5 Money Saving Tips For Your Grab Rides + Hands-On Tutorials
Southeast Asians can't live without Grab. You might think that I'm exaggerating, but no. Just ask any one of your Singaporean friends about how Grab has saved their lives, I'm sure they'd have a lot of stories to tell. Waking up late to an important interview? Wanting to go home ASAP to enjoy family time after you're off work? Just Grab a Grab.
Being the largest Southeast Asian unicorn ever, heading towards IPO, Grab conquered the markets of Singapore, Malaysia and Thailand like a strike of lightning. As consumers, of course we are happy to see how the company has grown and the service has improved, but there is one thing that we care the most about–how to enjoy Grab with the least budget. RewardMe has analysed 6 money saving hacks for your Grab rides, followed by detailed tutorials on how to use them. Make sure you read this before you Grab!
Subscription Plans
Grab's "Daily Value Plan" is perfect for frequent riders. Costing only S$16 per month, the plan gives its subscribed members 10 15%-off vouchers for rides and 5 free-delivery vouchers for GrabFood. Beware that each ride voucher discount is capped at S$4 each and food vouchers are only applicable when your order costs S$12 or above. You can save a total of S$19 for redeeming all vouchers every month.
If you seldom take Grab, but instead are a fan of GrabFood, Food Plan might be a better option for you. By spending S$9.99 per month, you will be able to get free delivery for up to 50 GrabFood Orders, paid with GrabPay.
To subscribe, click on the "Subscription" tab on your Grab app and choose the plan you want to join. Purchase it with GrabPay Credits and the vouchers will instantly appear in your "Rewards" tab. Make sure you use them within the billing cycle as they expire as soon as the month is over.  
RewardMe
RewardMe is a brand new cashback scheme that doesn't only work on Grab, but also Shopee, Amazon and other e-commerce big names. By downloading the app and linking your email or credit card accounts with us, the receipts of your selected merchants will automatically sync with our system. And ta-da, you can get up to 10% cashback rewards from your every eligible online purchase. 
Members can choose to receive their rewards in the form of cryptocurrency or Reward Dollar, which can be exchanged for gift cards at brands such as ebay, Starbucks and Google Play. RewardMe can be applied on top of any discount codes, vouchers or paying methods that you have already used, so do not hesitate to join us and earn that extra cash every time you shop. 
RewardMe is available to download on both  iOS or Android. After installing the app, you can easily register a new account with a phone number. Use referral code 9xrOM6 to register, and 25 Reward Dollars for free now.
GrabRewards
GrabRewards is Grab's very own loyalty scheme that awards points to members for every dollar they spend. Users can get at least 1 point for every S$1 they spend on the app, depending on their membership levels and paying methods. Being a GrabRewards member also allows you to enjoy the membership-tier-specific benefits such as prioritised booking, airport lounge access and F&B discounts. Try redeeming your GrabRewards points for discount vouchers on your rides and GrabFood delivery as well.
Every Grab user is automatically added into the GrabRewards scheme once they've enjoyed their first ride or GrabFood delivery. To check your tier level and point balance, simply click onto the "Account" tab on your Grab app to see the relevant information. It's even easier to redeem vouchers. Tab onto your point balance on the main page to reach the Reward catalogue, select the voucher you want and press "confirm". Then simply use it whenever you wish by clicking on it in your "Reward" tab.
GrabPay
As mentioned, Grab gives you a different amount of points depending on what purchasing methods you use. GrabPay users can get 3 times the amount of points than normal members every time they spend dollars on rides and GrabFood orders, making them easier to reach a higher tier and available to more discount vouchers.
Don't forget to pay attention to the seasonal GrabPay Card Accelerator events and PowerUp Challenges. Additional reward points will be given if you spend money with GrabPay in those specific categories.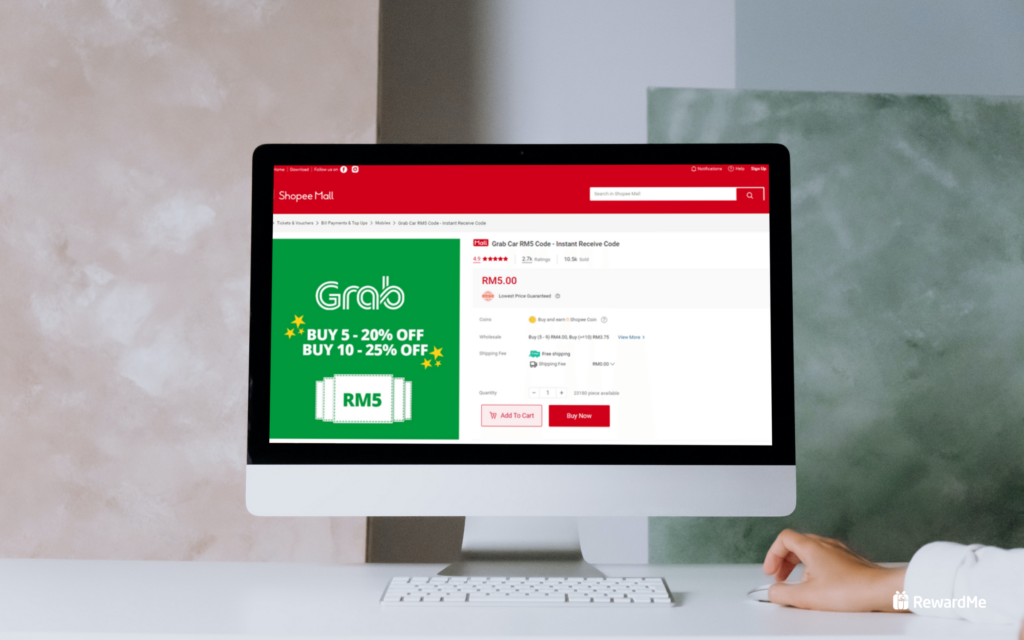 Shopee Promo Codes 
On Shopee, you can buy anything. And by anything, it includes Grab promo codes. If you urgently need some discounts on your rides, but did not join any subscription plans or GrabReward scheme, try looking for a Grab promo code online at shopee.
If you're lucky enough, you might be able to find some cheap discount codes that you can enter when you pay for your rides in the Grab app, giving you an instant deduction of price. However, there are no guarantees that these codes sold online are authentic and approved by Grab officially, so be careful and check with the sellers if possible.
Looking for Shopee hacks? Here's our tips on how to get the best value of money. 
ABOUT US
RewardMe is an innovative reward app that automatically earns you rewards as your spend at your favorite merchants.
RewardMe is also part of the MDT data ecosystem, whose mission is to create a sustainable data economy where users get rewarded for sharing anonymous data points securely on the blockchain.
Simply bind your email accounts or credit cards and you will a new way of reward app that helps you earn rewards automatically on your phone. By simply binding your email accounts or credit cards, you will automatically get rewarded on eligible purchases. You can choose to get rewarded in gift cards, cash, or cryptocurrency. The best part about RewardMe is that you get to enjoy extra rewards on top of other reward programs you've already signed up for. https://reward.me
DOWNLOAD RewardMe and Use referral code 9xrOM6 to register, and get extra free sign-up reward immediately.