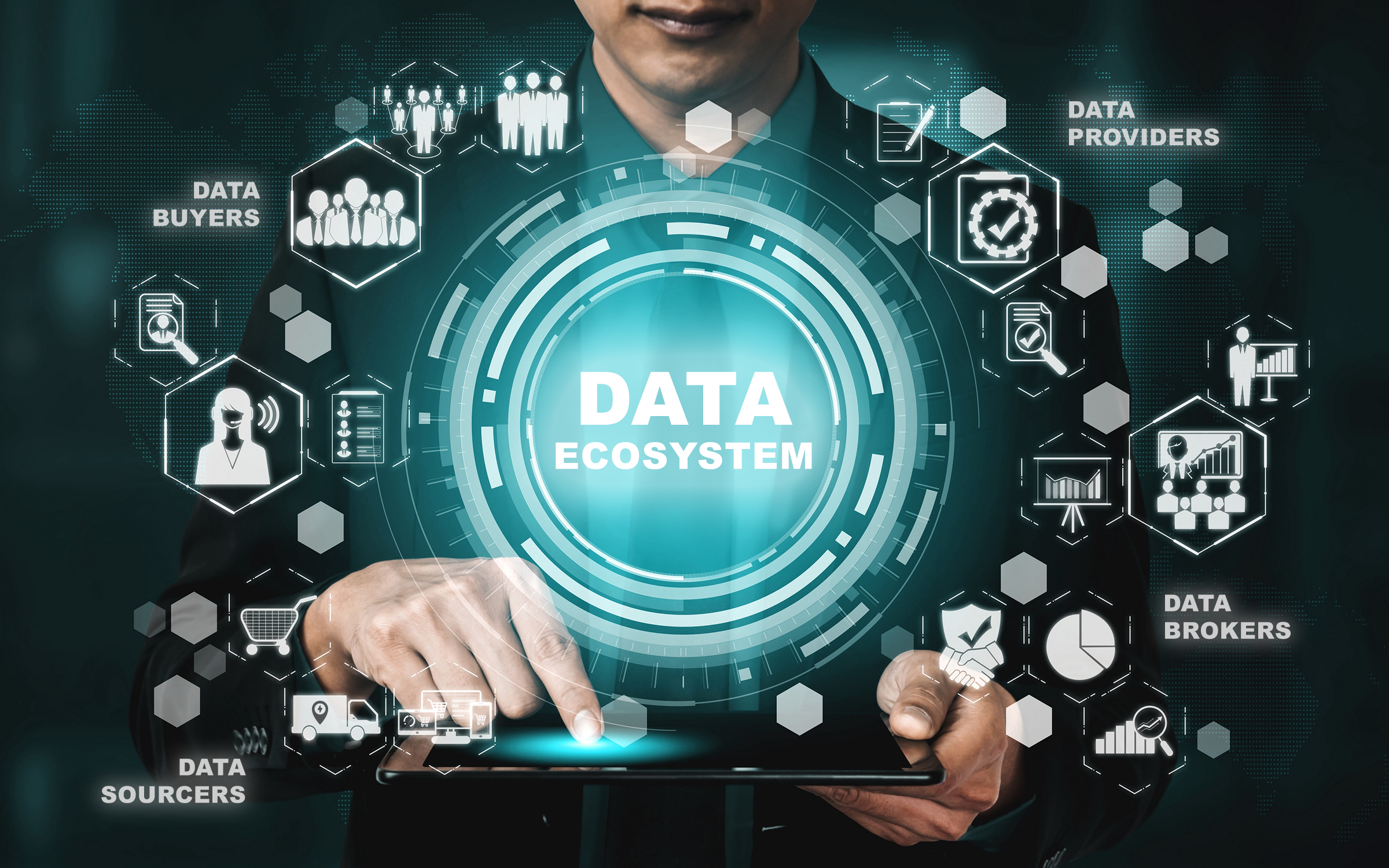 Introducing The MDT Data Ecosystem: Value Creation and Rewards on the Blockchain
Pioneering a more efficient data exchange model for data users, data providers and data buyers.
There has always been a contradiction between user privacy and traceability in data businesses. Like the widely popularized lemons problem when it comes to selling used cars, there is an asymmetry of information between data providers vs data buyers when it comes to the exchange of data: data providers are trying to prove that their data is real, while data buyers are seeking to ensure that they aren't buying fake data.
Given that there will always be honest dealers and cheats in the system – and it's hard to know the difference — how can we overcome this information asymmetry and inform consumers (the data buyers) that the data is authentic without compromising users' (data providers) privacy?
Enter blockchain. Given blockchains distributed ledger technology where independent computers (referred to as nodes) are used to record, share and synchronize transactions in their respective electronic ledgers, it serves as a perfect solution for storing sensitive data securely, and has its uniquely innate incentive scheme to empower sharing data encoded in smart contracts.
Recognizing the merits of blockchain technology, the Measurable Data Token ('MDT') team has pioneered a decentralized data exchange economy on the blockchain that empowers users to monetize and control their own data, while providing data buyers and data providers with a more efficient trading model. The MDT team believes that a future where data monetization for users is ubiquitous, and working steadfastly on a mission to propel this ecosystem with what we have already built.
To better govern the ecosystem amongst its various stakeholders, the MDT ecosystem has launched a few products, the latest two of which are:
RewardMe, a consumer-facing shopping reward app that helps users earn rewards automatically on the purchases they made.
Measurable AI, a business-oriented alternative data provider that turns anonymous transactional data into consumer insights serving financial institutions and corporations.
In an effort to justly reward consumers for contributing their valuable data (read out earlier article here), the MDT team has mapped out the MDT data ecosystem to better capture the data value creation chain.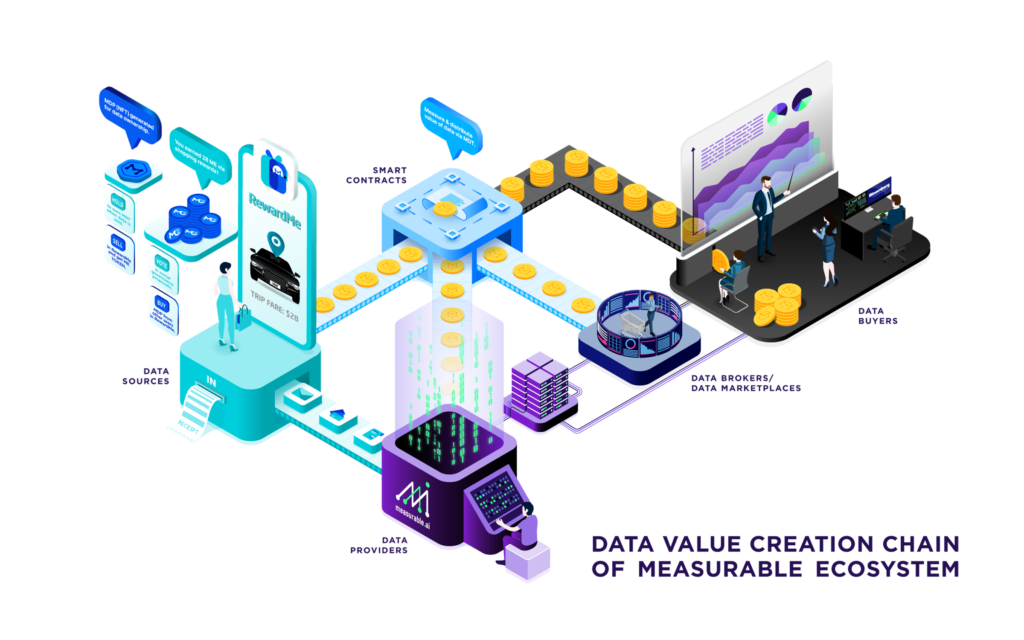 In the MDT data ecosystem, there are essentially four parties involved:
1.. Data Sourcer (Consumer facing, user opts in for anonymous data sharing),
2. Data Provider (Business facing, data cleaning and data aggregation) ,
3. Data Broker / Marketplace (Business facing, data monetization) and,
4. Data Buyer (Consumes aggregated and anonymous data; usually for equity and market research).
Underpinning and governing the ecosystem are two tokens:
1. Measurable Data Token (MDT) as the utility token that facilitates data value exchange;
2. RewardMe Token (ME) for user rewards and social governance.
In real use cases for MDT token,
Data Buyers consume MDT tokens to anonymously access aggregated or granular datasets;
Users, Data Providers and Data Brokers earn % of MDT tokens paid by Data Buyers;
Users stake MDT tokens in data source app to earn higher % cash back in ME tokens
Scenario:
· Data Buyer Company A pays 100,000 MDT to access FoodPanda and Deliveroo Hong Kong 2020 dataset for market research on the pandemics impact to the food delivery sector, which contains 50,000 de-identified granular data points (associated with 50,000 MDPs) generated by 5,000 opt-in users.
· In this data exchange transaction, 45%, 30% and 25% of MDT proceedings will be distributed to Users, Data Provider Company B and Data Broker Company C respectively.
· 5,000 users will share 45,000 MDT for their data contribution; Company B receives 30,000 MDT for data cleaning and aggregation, and Company C gets 25,000 MDT for data monetization.
In real use cases for ME token,
Users earn ME tokens for cash back rewards at supported merchants;
0.5-2% without MDT staking and 2-10% with MDT staking + APY[MT1] ;
Users proposal / vote to add / remove supported merchants with ME token;
Users pay with ME token at partner merchants*.
Scenario:
· User A from Hong Kong connected 1 email account and 1 credit card account with a data source app, without MDT staking, and recently made an order at supported merchant FoodPanda of US$20, earning 1% in cash back reward for 20 ME tokens ($0.01 initial value of ME Token), plus an associated MDP token minted for data ownership.
· User B connected 1 email account and staked 250,000 MDT with a data source app to upgrade membership tier, recently made an order at supported merchant Deliveroo of US$36, earning 4% in cash back reward for 144 ME tokens, and sold the associated MDP to User C for 20 ME tokens.
· User C from Italy realized Italy's popular food delivery service Just Eats is not currently supported and made a social governance proposal to add support for Just Eats. User C paid ME tokens to buy MDP from other users for long term data value monetization.
The ME Token was created to reward consumers for the data they contribute to the MDT ecosystem. Once users opt-in, their data is anonymized, aggregated and exchanged as big data. After data points shared in the ecosystem are confirmed on the blockchain, users will automatically get rewarded with ME Tokens.
It is important to note that the ME ecosystem is run entirely by the community, not by any administrators. That's another important role the ME token plays. Each ME Token holder is a member of the decentralized ME community and are free to propose, vote, and impact the product development and future directions of ME. It effectively empowers data assets to be owned and rewarded to users (data contributors) accordingly and allows decisions to be made by its token holders.
For instance, users will get to vote for which merchants to be included in the next update on RewardMe, decide on new rules for the membership mechanism, and can even have a say in the color of the logo – how cool is that?
Other than the RewardMe and Measurable AI, the MDT team is continuing to build new, real use cases for the data exchange economy that can facilitate a better alignment of incentives amongst various stakeholders in the data industry. Join the MDT ecosystem by downloading the RewardMe app and make your data work for you.