Tight-fisted on a Big Mac in HK: Deliveroo VS Foodpanda VS McDelivery 🍔
McDonald's Hong Kong never runs out of exciting deals and collaborations with celebrities. Whether you are a big fan of McD or not, sometimes you just want to enjoy fast food guilty pleasure by getting a Big Mac delivered to your home.
Do You Pay More on Delivery Apps and if so, by How Much?
We all know that menu prices on online delivery apps are much higher than in restaurants. For McDonald's Hong Kong, how's the markup charge percentage?
By comparing the prices of some best-selling items, we found that delivery app (Deliveroo, Foodpanda, and McDelivery) users pay 8% to 92% more than people who order the same food at the McDonald's restaurant. Taking the Filet-O-Fish as an example, the markup costs almost as much as the burger itself.
Deliveroo VS Foodpanda VS McDelivery
Which online food delivery app should you use to order your burger meal – Deliveroo, Foodpanda, or McDelivery? Among all these big-name apps, it's not easy to figure out which one is right for you.
We ordered the same "Burger Lover Combo for 1" from the same McDonald's restaurant, at around the same time, on these 3 apps. This article takes a closer look at their prices, speed, and user experience.
Your order is on the way! Let's see how each app fared.
Deliveroo
Cost: HKD 80

Menu item: HKD 70
Delivery fee: HKD 8
Service fee: HKD 2

Speed: 26 minutes
Deliveroo's app interface is simple and functional. When we search for "McDonald's", the app recommends the nearest restaurant with the estimated delivery time. After ordering, we can track the order's status and get notified when the food is ready.
Deliveroo gave us the cheapest, fastest delivery among the 3 apps.
Foodpanda
Cost: HKD 87

Menu item: HKD 70
Delivery fee: HKD 15
Platform fee: HKD 2

Speed: 30 minutes
In this case, compared to Deliveroo, Foodpanda's delivery fee nearly doubled.
One thing good about the Foodpanda app is that you can view the delivery fees and estimated delivery time for each restaurant in search results. You will receive an e-receipt once the restaurant accepts your order. Just like Deliveroo, you can track the order status and get notified when the meal has been delivered.
McDelivery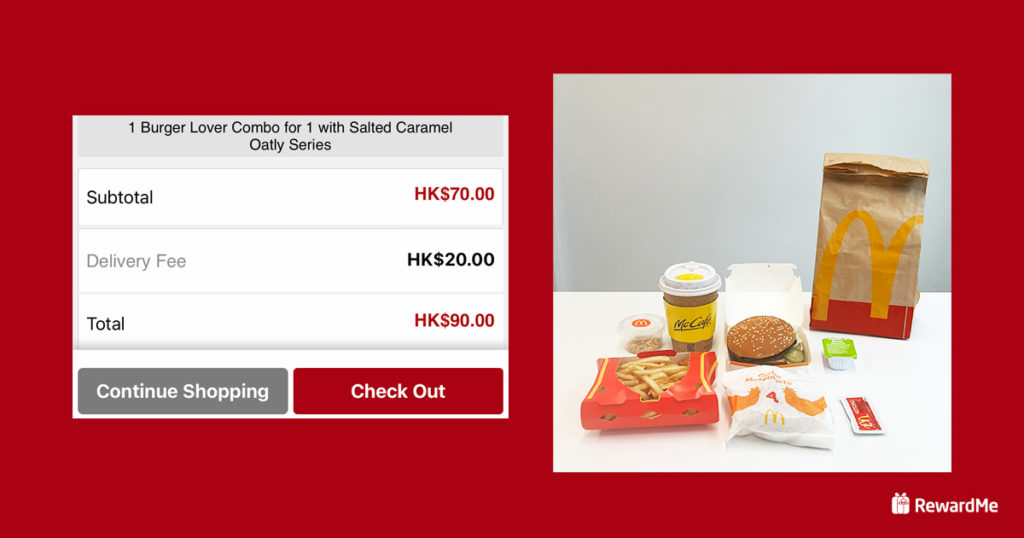 Cost: HKD 90

Menu item: HKD 70
Delivery fee: HKD 20

Speed: 30 minutes
McDelivery offers a standard delivery fee of HKD 20. It is the most expensive Big Mac Combo among the 3 apps.
After entering the address, the app automatically locates the nearest McDonald's restaurant. However, if you need a coffee from McCafe but don't have one nearby, you may need to use other food delivery apps.
The app is not as user-friendly as Deliveroo or Foodpanda. We tried several times to checkout and the error message keeps popping up. After ordering, you will receive an e-receipt with an external link to track the order status.
Results
| | | | |
| --- | --- | --- | --- |
| | Deliveroo | Foodpanda | McDelivery |
| Menu Item | HK$ 70 | HK$ 70 | HK$ 70 |
| Delivery Fee | HK$ 8 | HK$ 15 | HK$ 20 |
| Service Fee/ Platform Fee | HK$ 2 | HK$ 2 | / |
| Total Cost | HK$ 80 | HK$ 87 | HK$ 90 |
| Delivery Speed | 26 min | 30 min | 30 min |
Extra Tips: How to Earn Cashback on Burger Meals?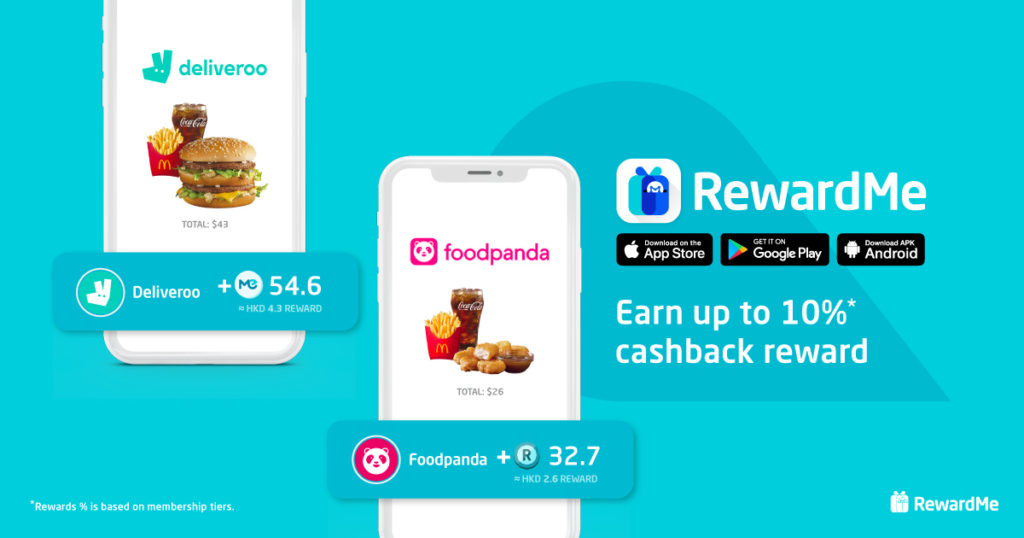 On top of the credit card programs you've already signed up for, you can earn extra cashback rewards with our innovative reward app, RewardMe!
RewardMe offers users up to 10% cashback rewards every time you spend on Deliveroo, Foodpanda, and 100 more merchants. You can download RewardMe on the App Store or Google Play. Use my referral link to download and get 25 Reward Dollars for free!
Learn more: How to sign up for RewardMe in minutes — Shop & earn rewards automatically!
Next time when you order a McDonald's meal online, be sure to check the most affordable deal in delivery apps and have your RewardMe account ready!