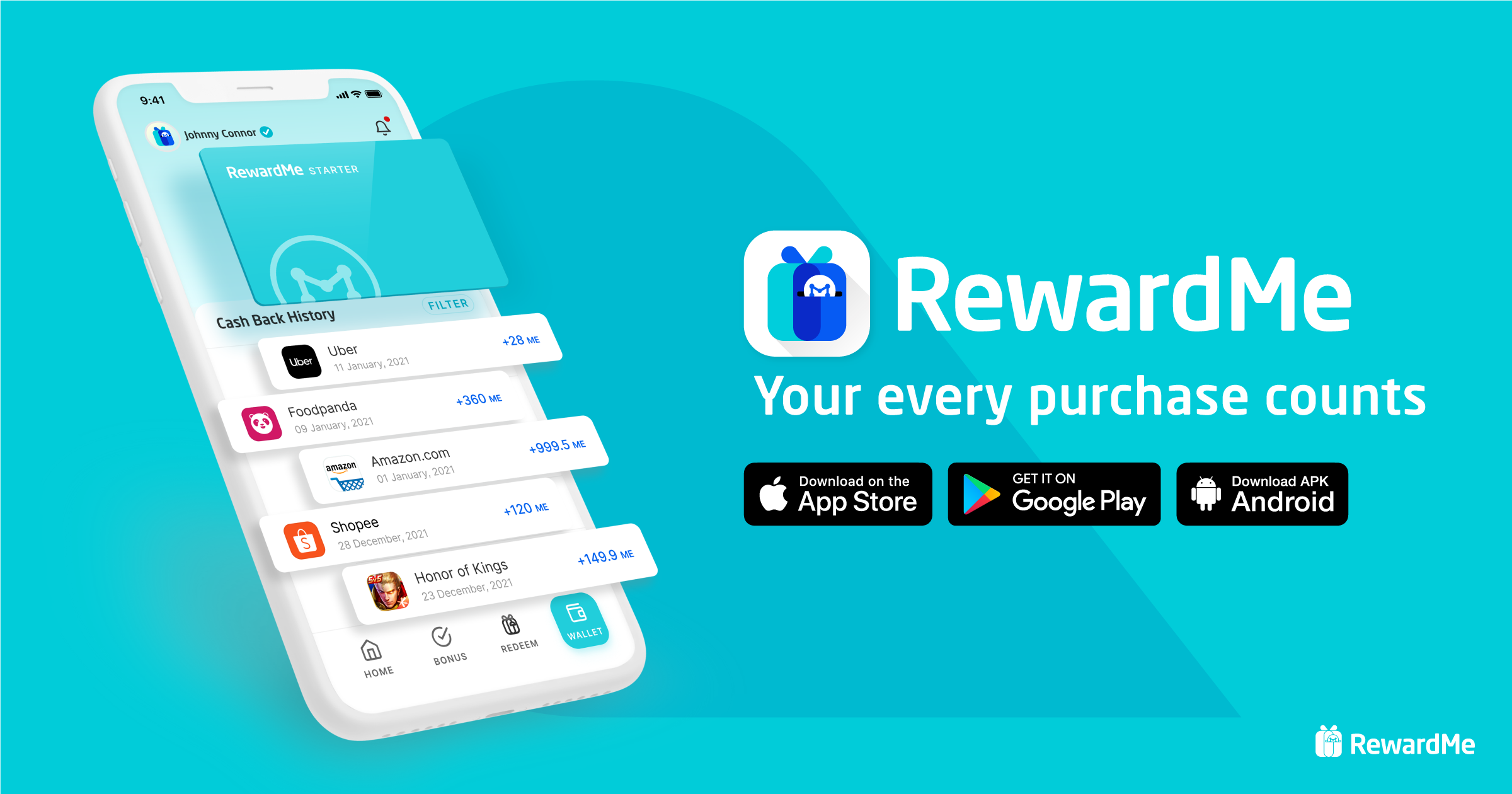 How To Earn Passive Income with RewardMe
An app that helps you save faster.
Imagine earning money every time you order your lunch on Foodpanda or every time you hop onto an Uber. How about each time you grab your favourite brew or do an office coffee run from Starbucks. Sounds impracticable?  Well, not so if you have downloaded the newly launched RewardMe app.
With our latest cashback app, you can automatically earn cash or crypto everytime you purchase from your favourite merchants without needing to input any of your spending. What's more? Choose from a large variety of popular merchants, swap out your cash dollars for gift cards, and stake your crypto earnt if you want to earn even faster.
But wait, you may be thinking, how and why is this possible? Simply put, every time you shop, you are not only buying for your own good, but also creating a new piece of consumer data which companies are willing to pay for in order to learn more about their customers. At RewardMe, we recognize the value of your data and believe that you should be justly rewarded for your contribution in an equitable and efficient manner. At all times, we protect your personal privacy by de-identifying your receipts and aggregating our data to ensure anonymity and data security is upheld as you shop.
How to use RewardMe
Ready to try it out? Here's how it works.
Select your favourite brands to shop with our list containing 100+ merchants, such as Amazon, Uber, Deliveroo and HKTVmall.
Next, bind your email account and/or credit card to the RewardMe app. Unlike your usual cashback sites, no links or uploading of receipts are needed (we make it hassle-free for you).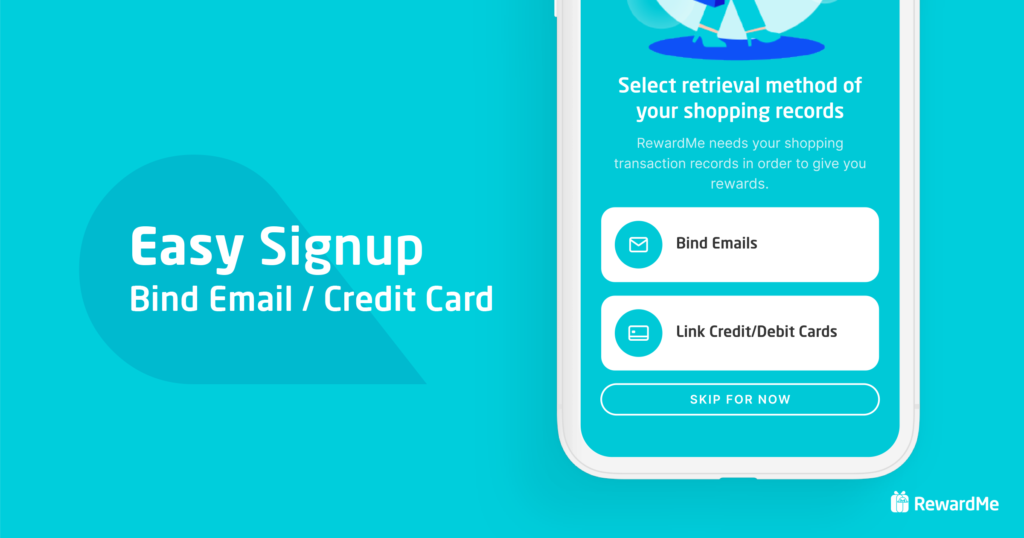 And yes, you are off to the races! You can now claim a maximum of 10% reward from every purchase at your chosen brands. RewardMe can also be applied on top of any reward schemes that you have already signed up for.
Choose Your Own Reward
You can either claim your shopping rewards in Reward Dollars, which can be redeemed into gift cards for your future spending, or the cryptocurrency ME token, which you can withdraw on your own accord. Can't make up your mind? Don't worry. We provide you with the flexibility to switch from one option to the other at anytime without any charges and at ease within our app.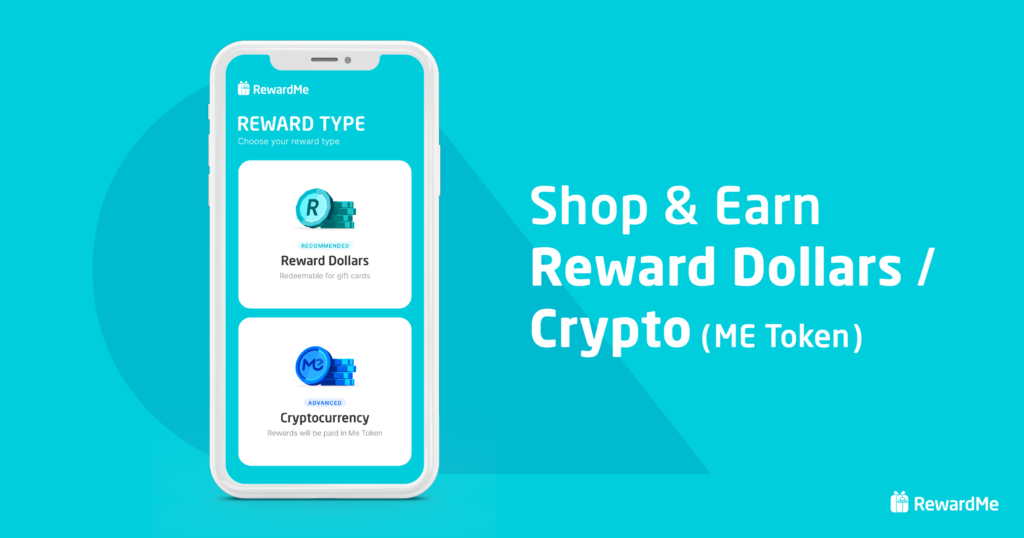 Upgrade Your Membership to Earn More
Upon joining the RewardMe program, you will immediately be granted a "Newbie" membership card. You can start earning rewards immediately by completing the basic account setup and upgrading to the "Starter" level, which will empower you to earn 0.5% shopping rewards of your purchases from 2 selected merchants.
Want to earn more? The higher the membership level you're on, the bigger shopping rewards you can accrue. To upgrade your membership level, simply bind more emails or credit cards and refer friends to join the RewardMe family.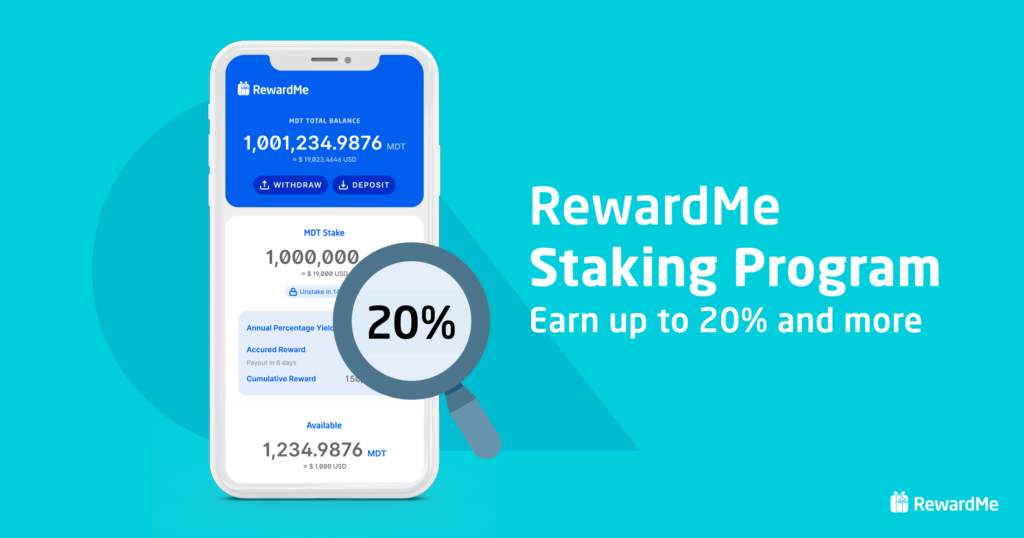 Our highest tier, Infinite Privilege, will enable you to earn up to 10% shopping rewards across 10 selected merchants. This tier also empowers you to earn up to 20% p.a. staking rewards in the form of the ME Token.
Don't forget the bonus reward!
Besides your usual daily purchases amongst your selected merchants, you can also complete the bonus missions listed in the app to earn bonus rewards. Simply check in and follow our social media channels to stay updated on our seasonal events and news as to how to earn extra rewards.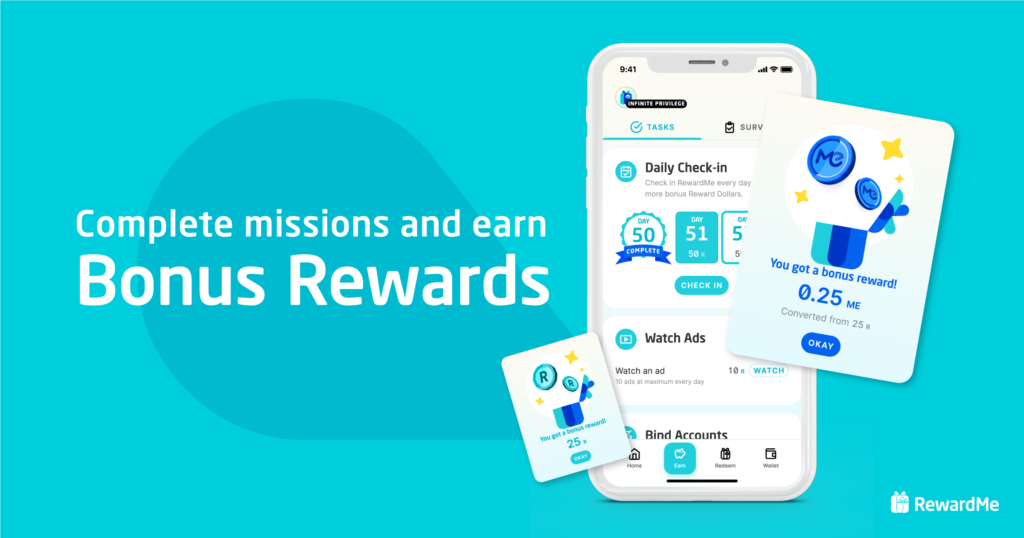 So what are you waiting for? Many a little makes a mickle. Download RewardMe and start by earning a little each time you shop. This could be a new passive income stream to maximise your opportunities to earn and save effortlessly. Make your every purchase count.
ABOUT US
RewardMe is an innovative reward app that automatically earns you rewards as your spend at your favorite merchants.
Simply bind your email accounts or credit cards and you will a new way of reward app that helps you earn rewards automatically on your phone. By simply binding your email accounts or credit cards, you will automatically get rewarded on eligible purchases. You can choose to get rewarded in gift cards, cash, or cryptocurrency. The best part about RewardMe is that you get to enjoy extra rewards on top of other reward programs you've already signed up for.
Download RewardMe with referral code:
https://get.reward.me/zNejQUzF4ob?r=3rtIdz