15 Best Holiday Gifts From Amazon – Budget Gift Guide With Exclusive Money Saving Tips
It's officially December, which means we have less than 1 month until our favorite time of the year. If you're selecting gifts for friends and family but don't know where to start, why not try finding something thoughtful yet affordable on Amazon, the "shop" everyone can easily have access to.
Gift Smart with RewardMe
As much as we love the holiday season, RewardMe understands that paying for all those parties, gifts and new outfits can be costly. We believe that everyone should be able to enjoy the festive event with budgets that they are comfortable with, and our cashback app is here to help.
Through RewardMe, you can earn as much as 10% cashback from your gifts purchased online. Simply download the app and link with your email or credit card account, choose your favourite merchants (e.g. Amazon) to earn cashback with and our team will sync every eligible receipt for you. Cashback will be awarded in the form of cryptocurrency or Reward Dollar, which can be redeemed into gift cards of big brands like IKEA and Apple App Store.
So don't get too excited, even if you finally come up with some gift ideas after reading this blog (hopefully you will), join RewardMe first and make sure to earn every single dollar you deserve.
RewardMe is available to download on both iOS or Android. After installing the app, you can easily register a new account with a phone number. Use referral code 9xrOM6 to register, and 25 Reward Dollars for free now.
Gift Guide
Amazon is such a lifesaver when it comes to Holiday shopping, not only owing to its huge variety of gifts available for whomever you're buying for, but also how easily accessible it is. And if you're a last-minute buyer, don't worry, the Amazon Prime delivery can make sure that your gift arrives on time.
Home Office
To say that the pandemic has changed our lives isn't an overstatement, and the biggest part it has impacted might be the remote work culture. A significant number of companies are now switching to remote or hybrid work policy, making a good home office space more essential than ever. Holiday gifts that can improve one's WFH efficiency would be a practical option.
Essential for WFH people, no more washing machine noises to disturb you from important business meetings!
Works with Alexa to add voice control to any of your electrical sockets and appliances connected, also remotely accessible through the Alexa app.
Make Alexa your personal assistant and let her help with your schedule, news-reading and more. Look out for bundle deals with smart plug as well!
Planning and preparations help with efficiency, get a brand new planner and start the 2022 productively.
Stay connected no matter where you are! The portable battery keychain not only gives your phone an extra 8 hour of power, but also a piece of mind for those who can't live without their mobile.
Wellness
Physical and mental health is important to all of us, and a gift to remind your loved ones to take good care of themselves is perfect for this holiday.
Nice decoration for a working desk, brings you the peacefulness you need to cope with daily pressure.
Relieves muscle soreness and tension with 3 adjustable speeds and infrared heating feature.
A pair of lightweight and comfortable sleep headphones that you can wear to bed to play white noises or any music of your choice, also good for keeping your ears warm if you love to run in early mornings.
This cute plush sloth is lavender-scented and reheatable by microwave, giving you the warm hug you need on a chilly winter night.
Adding a new member to your greens collection every month, this subscription plan will send you a different indoor plant monthly in 2022, with detailed tutorial on how to keep them alive. Perfect for home decoration and filtering pollutants.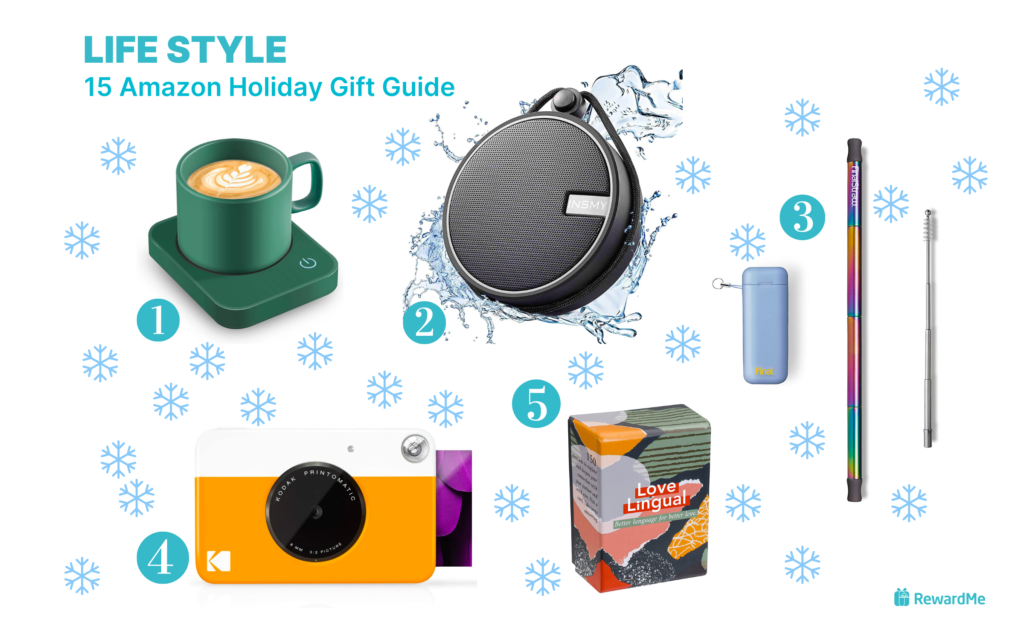 Lifestyle
Holidays are for care and love. Remind your friends and family to enjoy life with style by gifting them these low-budget little presents that can add so much joy to their day-to-day routines.
But first, coffee! Keep your drink warm all day long with this temperature control mug, enjoy your latte whenever you want.
For water sport lovers and camping enthusiasts, simply clip this onto your backpack to enjoy your favourite music on the background of your whole journey. Not keen on outdoor activities? Keep it in your shower and enjoy your very own karaoke.
A card game that can strengthen your relationship with the one you love and a perfect way to spend the holiday together and find out more about each other.
Record every memorable moment with this instant camera, the built-in printer makes it even better as you can share the photos with friends and family as soon as it is taken.
Enjoy bubble tea and coffee in an eco-friendly way! This collapsible straw set can be stored in the provided case, easy to bring around as a convenient alternative to the disposable ones.
ABOUT US
RewardMe is an innovative reward app that automatically earns you rewards as your spend at your favorite merchants.
RewardMe is also part of the MDT data ecosystem, whose mission is to create a sustainable data economy where users get rewarded for sharing anonymous data points securely on the blockchain.
Simply bind your email accounts or credit cards and you will a new way of reward app that helps you earn rewards automatically on your phone. By simply binding your email accounts or credit cards, you will automatically get rewarded on eligible purchases. You can choose to get rewarded in gift cards, cash, or cryptocurrency. The best part about RewardMe is that you get to enjoy extra rewards on top of other reward programs you've already signed up for. https://reward.me
DOWNLOAD RewardMe and Use referral code 9xrOM6 to register, and get extra free sign-up reward immediately.